After Shaw TV Red Deer showed on network TV the YouTube video of our studio,  we were most fortunate to obtain a wedding present commission for an octagonal light house which was eventually shipped to the town of S. Freeport on the USA seaboard coast in the State of Maine. Now that the wedding is over, here is the construction story. In addition we overlaid glass on this panel. This 1st photo shows the beginning of construction of this panel which measures about 19 inches in size.
For the outer edge of the panel, we used bone white  Wissmach (51LL) and the black was a very neat Uroboros Fibroid Textured U-70-56-90.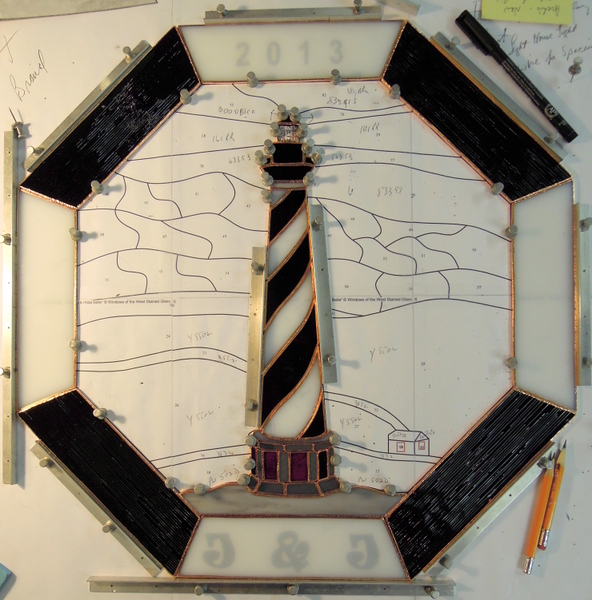 Construction continues in the next photo, with Spectrum Black Waterglass used in the lighthouse. In addition Spectrum Glass was used for the sky, yellow light rays, aqua water, roads, reds and some of the base. Wissmach 502D was also used for the land around the base of the light house. Uroboros U 65-145 for the green hills and Youghiogheny YO-5502SP  for the sand dunes.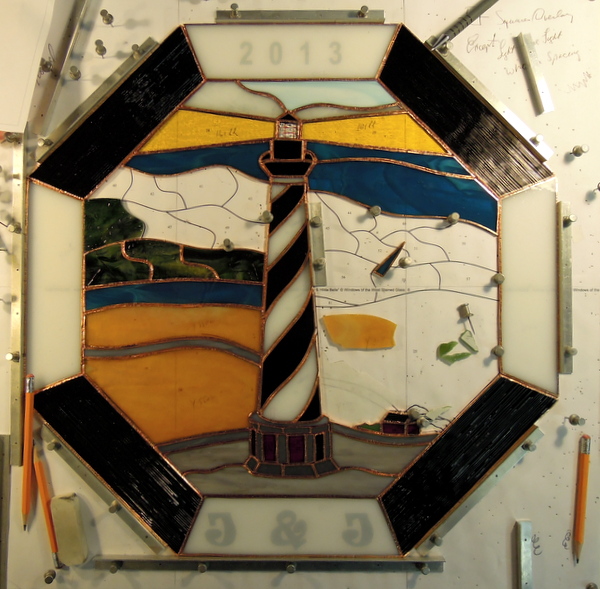 In this photo construction of the panel is nearing completion and close to being ready for soldering.
The following picture the panel has been soldered and cleaned ready for black patina to be applied after taking steel wool (#0000) to the solder lines.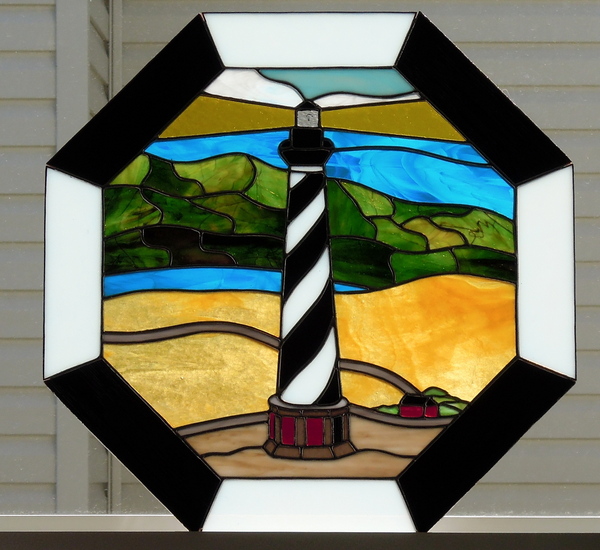 Then a 1/2 inch zinc came edging was attached and joined to all of the panels solder joints, with more cleaning and patina applied. For the light house light we used very fine wire soldered into the adjoining seams. Then the panel was polished and cleaned and once that was done to our satisfaction we then applied the numbers, lettering and small windows on the light house and side building. These were are cut from Spectrum's black cathedral glass and bonded to the panel using E 6000 glue. The 2, 1 & 3 were all one piece of glass and the 0 was 2. The J's were one piece of glass and the ampersand was 4 pieces. Having a Taurus 3 Ring Saw allows us to do this fine work and complete it on a Glastar All Star Grinder using 1/8 inch grinding head.
The panel was successfully packaged and shipped to Maine in time for the wedding. The panel will now hang in their home located in New York City, USA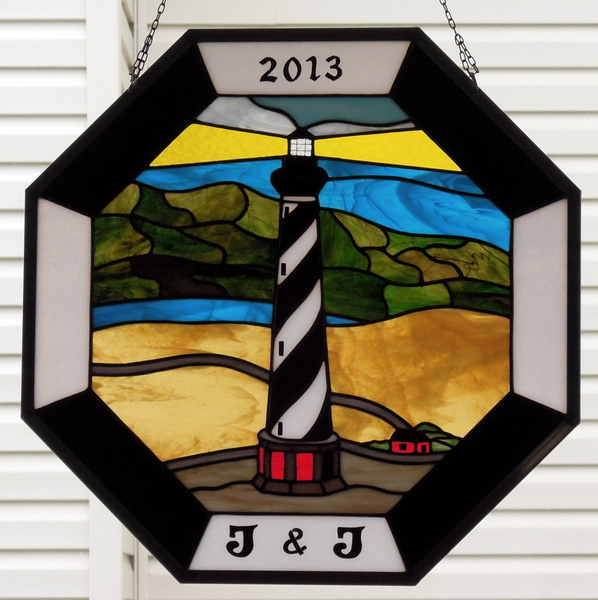 Adaption of original design by Paned Expression Studios by Flory & Bob Wilkins