This Zebra panel was commissioned for Christmas 2017 and measured 10 inches wide x 14 inches high. We fortunately still had some Spectrum Baroque #BR 6000 – Black/White/Clear for the 4 corners and for the rest of the frame we had a discontinued piece of Spectrum #4000-9SF Black/Clear.
We used Spectrum #1009W Black Waterglass for the Zebra's black lines and Spectrum #200CC Corsica Pot White Opal for the white portions. For the nose and ears we used Bullseye Charcoal Grey  Double Rolled #1129.
The background glass was Spectrum #823.92 Teal Green Swirled with White Wispy. The frame is 3/8 inch zinc came, drilled very carefully with key chain rings inserted for the hanging chain,
When making panels we use the Morton Layout Block System and we use a metal square to ensure that the panel is square, as well as making sure corner to corner measurements are exactly the same.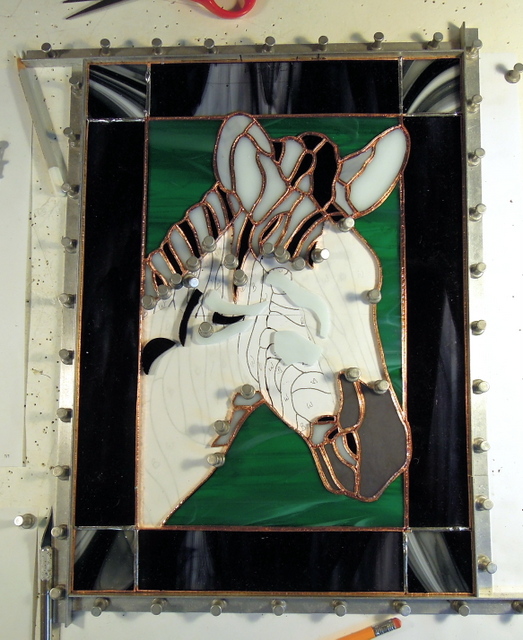 Original Design by Chantal Pare with some slight modifications by Flory Wilkins