When we retired in 1999 we lived in our 5th wheel trailer, travelling for some 2 + years. We spent our winters in Utah, Nevada, California and Arizona. On our trip south in 2000 we enjoyed a week at Moab Utah and toured Arches and Canyonlands National Parks.
Delicate Arch is one of the wonders of the world. To get to it you have to hike approximately 3 miles one way, with an elevation gain of 480 feet/146 meters, no shade on an open slickrock surface with some exposure to heights.
That fall we first stayed at Valle Del Oro RV Resort in Mesa Arizona and in November the Arizona Republic published an article about Delicate Arch which included the picture below. It was from this picture that we transposed it into a stained glass design. Our panel design measures approximately 14 inches wide x 10 inches high.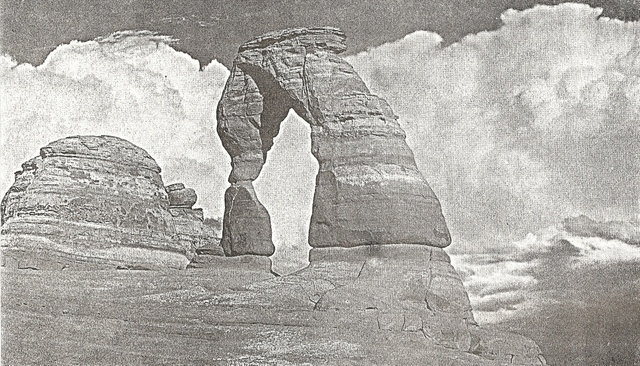 We were fortunate to have been able to locate this beautiful sandstone colored glass which closely matches the color of the arch. Because of the current virus situation in our world we now have the time to delve into the archives and hidden spots of our studio where we have found this and other interesting pieces and design patterns, some of which will be made and eventually find their way to our website.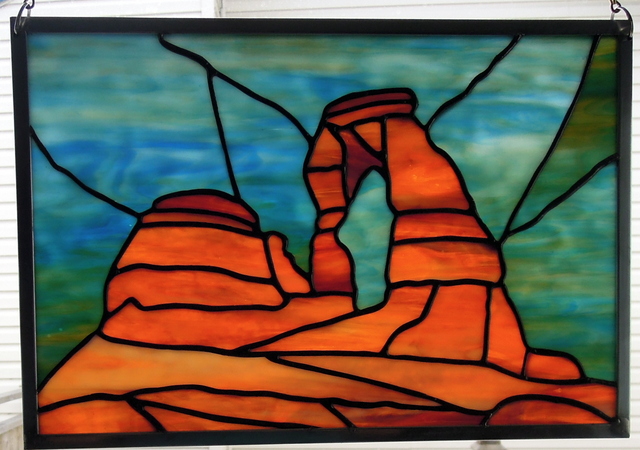 It was a beautiful day in October 2000 when we hiked up to Delicate Arch. The 3 mile one way hike was not a problem because in the winter of 1999 – 2000 we hiked some 450 miles in the high Sonoran Desert around Phoenix, Mesa, Apache Junction etc. We were fortunate enough to climb to the top of Superstition Mountain, Picacho Peak as well as other lesser peaks during the winters of 1999 to 2001.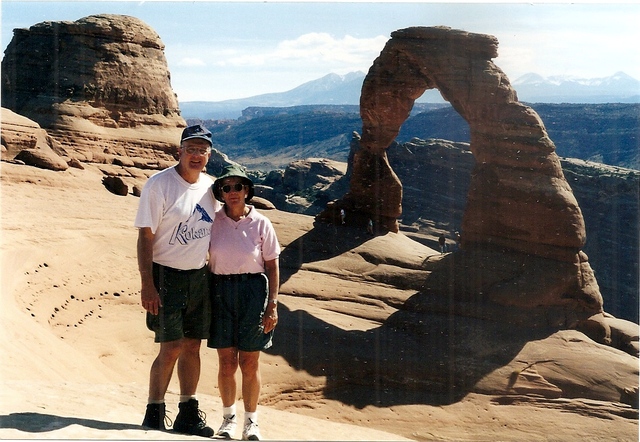 Design by Bob & Flory Wilkins