Island Lake in glorious sunshine. We used a lot of very interesting wonderful art glass from Spectrum, Bullseye, Uroboros, Wissmach and Kokomo to complete this panel which measures with the 1/2 zinc frame 26.5 inches wide by 18. 5/8 inches high. If you scroll down to the bottom of this posting you will see the photograph from which Martha at Paned Expressions Studios in Edgewood Maryland used to create this awesome reflective design scene. Island Lake is located near Fernie BC and it is here that our daughter Tanya and Sean were married a few years ago.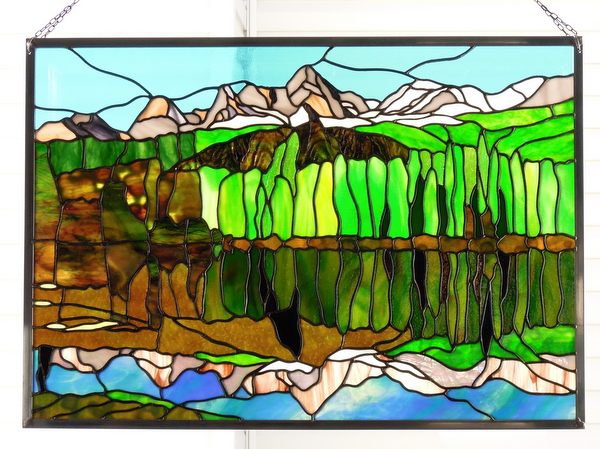 Design by Paned Expressions Studios
All of the pieces for Island Lake have now been cut and rough ground. Next step is to fit and foil then the panel will be ready for soldering.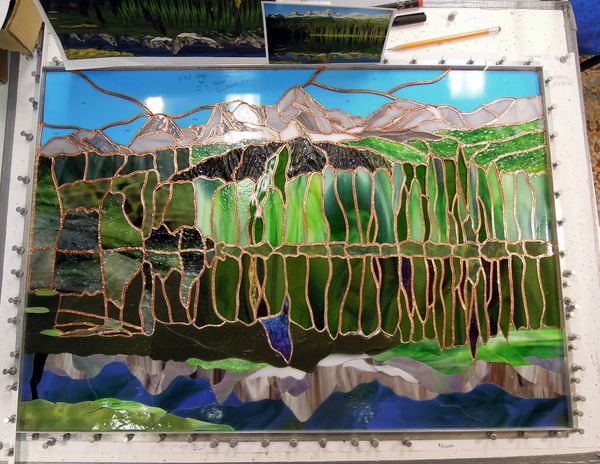 We have now finished about 2/3 of the Island Lake panel which when finished will consist of 257 pieces of stained glass. The next process will be to insert tracing paper and draw out the remaining pattern pieces on the tracing paper. Then we cut them out and glue them to the glass we want to use along with ensuring that the we obtain the glass direction we desire for each piece as well when deemed desirable we will sometimes reverse a particular pattern piece and glue it on the reverse side of textured glass in order to enhance the panel.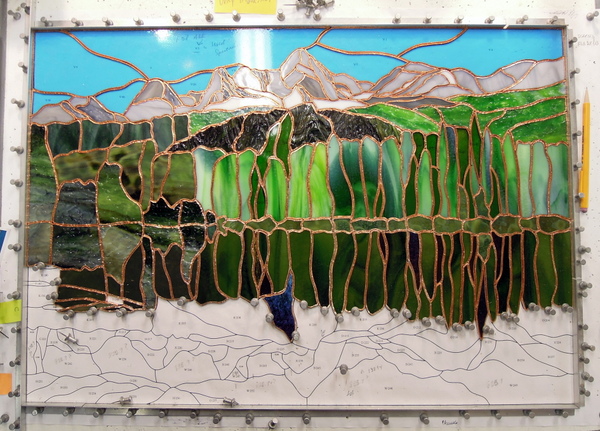 We have now traced another 50+ pieces and glued them to the respective glass pieces which have been cut. We now rough grind to the paper, remove the paper, fit each piece one at a time, foiling each piece as we go. Some of the pieces have the paper on the reverse side of some of the glass as we want to use the rougher side for effect.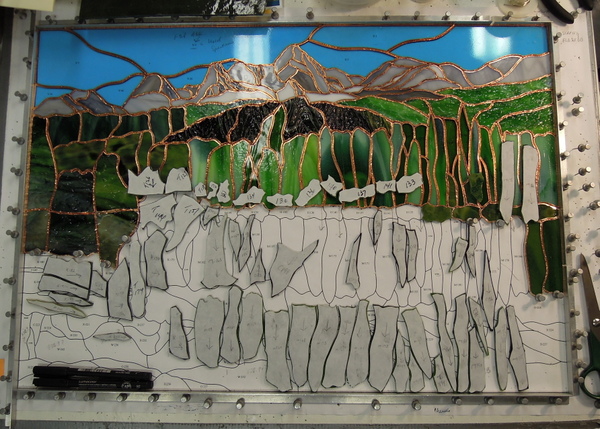 It has been a very busy Christmas season and we are now ready to paper and start the next reflective portion of the Island Lake panel. We are in the process of tracing out each piece on white freezer paper, selecting the glass and gluing each individual cut out piece to its appropriate glass piece. More updates to follow as we continue it's construction.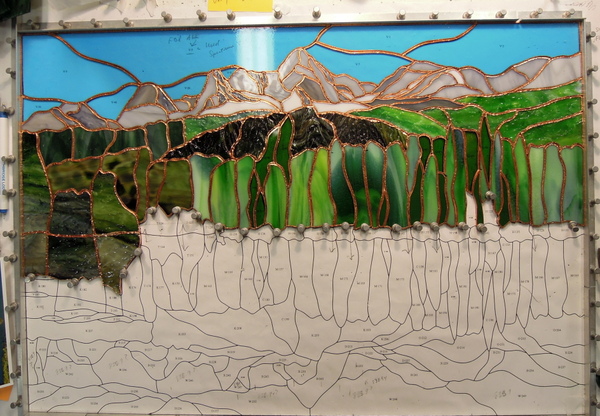 We now have a lot of new pieces cut out and ready to be ground, fitted in place and as each is completed that piece is foiled and burnished.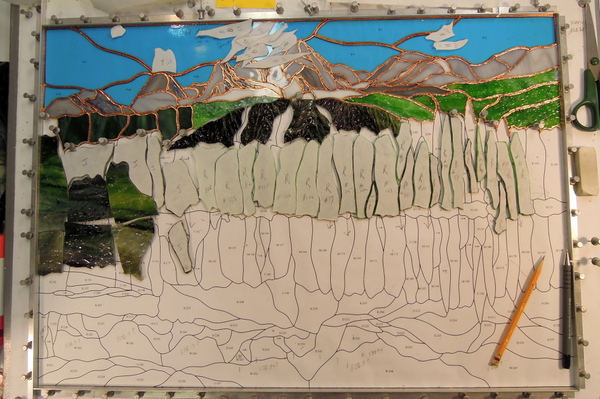 The mountains are now completed with a number of different glasses used. Next we will finish down to the water line.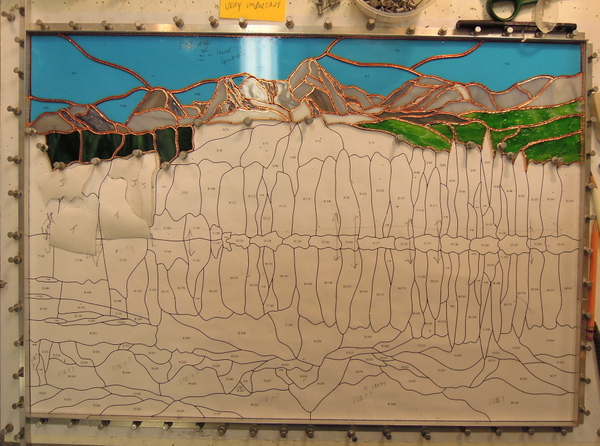 We continue to work on the Island Lake panel and here is an updated photo as at May 29, 2013. We continue to trace and apply to the various pieces of glass and have now sorted out all of the glass and color combinations we intend on using in this panel.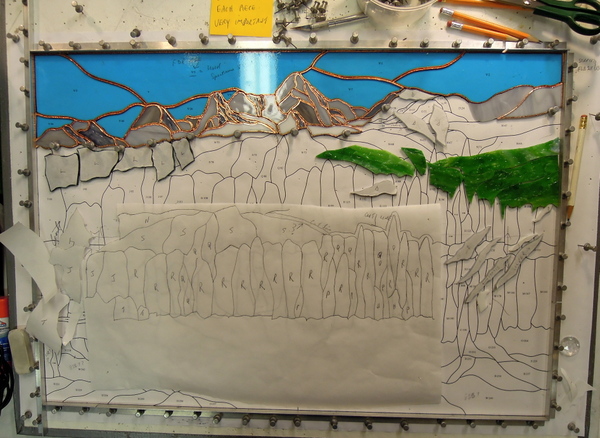 We place white freezer paper over the pattern, then trace out each piece. Once done we cut out and glue to the glass on the angles and directions that we want the glass to flow in the design.
The mountains are beginning to take shape. We are using a combination of Spectrum and Wissmach glass with Spectrum's Thunderhead being reversed for effect.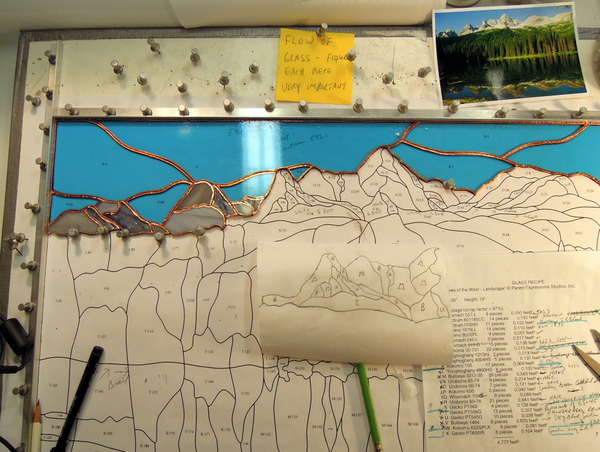 For the blue sky we used Spectrum's #533.1 and with the sky now completed we will start on the mountains.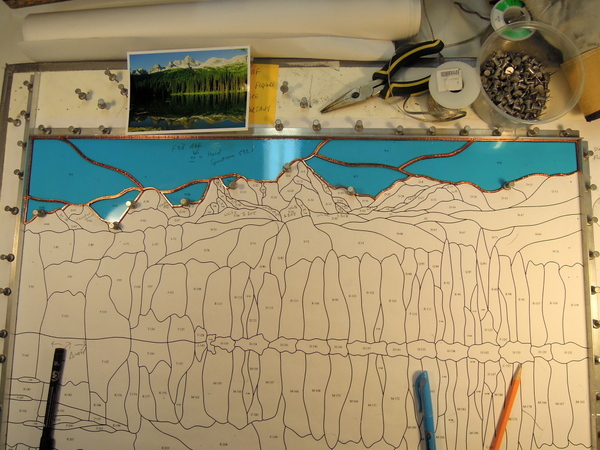 We now have most of the glass necessary to complete this panel, which is shown below we use the Morton Glass Caddy which works great for holding the glass for our projects.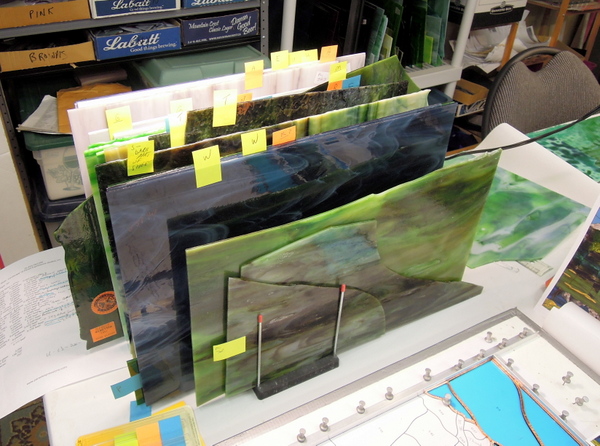 In view of the complexity of the picture we once again enlisted Paned Expression Studios to come up with the design for this panel from the picture.  We have now started to construct the panel and will continue to post pictures and updates as it proceeds.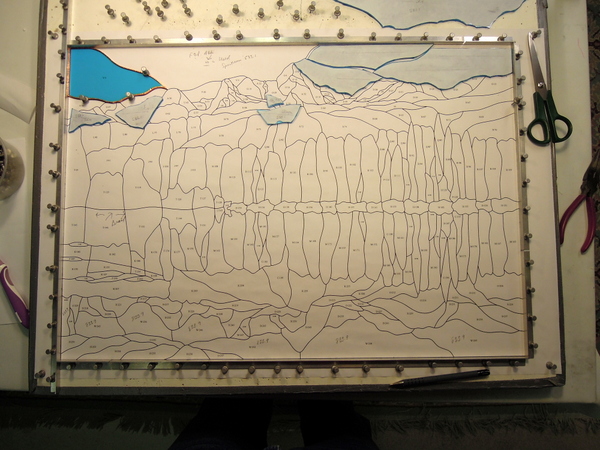 Design by Paned Expression Studios
To whet your appetite and let your artistic minds wander and contemplate? What will be done to turn this beautiful Island Lake photo near Fernie British Columbia into a stained glass panel?