We have now cemented the back side of the reconstruction and will be starting on cementing the front. Unfortunately there were many broken pieces of glass in both windows, however we were successful in restoring this window with all original glass by using pieces from both windows.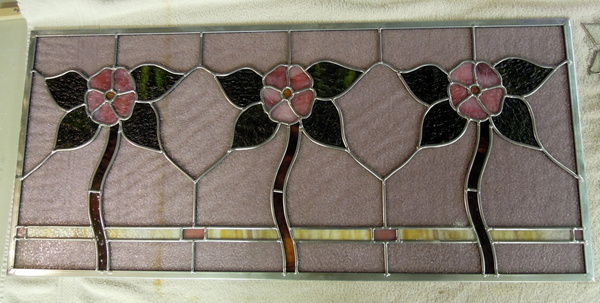 The following pictures shows the window in sunshine before we started to cement the came.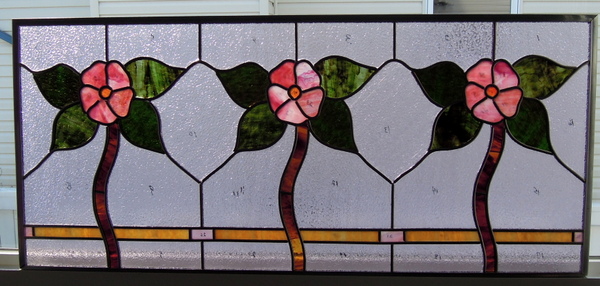 The reconstruction of this wonderful old Alberta Rose Came window continues.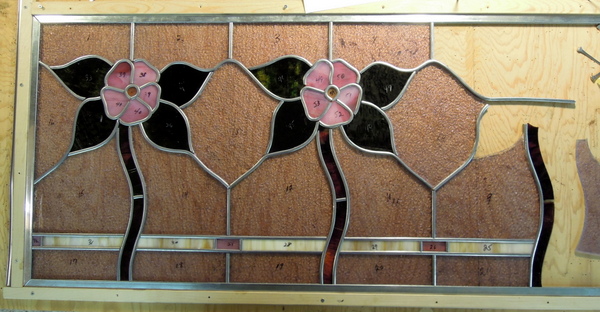 We now have started the reconstruction of these Alberta Rose Came windows. After discussions with our client we are going to first restore window # 2, which has the rose colored background glass. We will have sufficient pieces to replace those that were broken from window # 1, which will allow for this window to be rebuilt using all original glass. When it comes to doing window # 1 we will have to add new glass and will cover off that in detail when we get to restoring that one.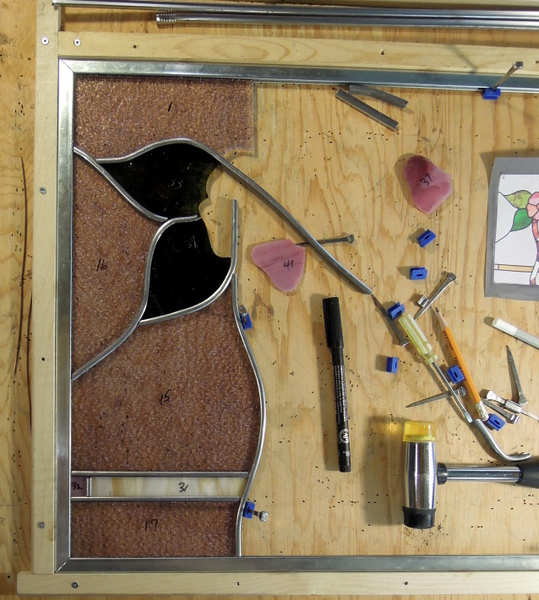 Very carefully we take apart these old came windows. Most of the glass in window # 1 was intact with only a couple of broken pieces.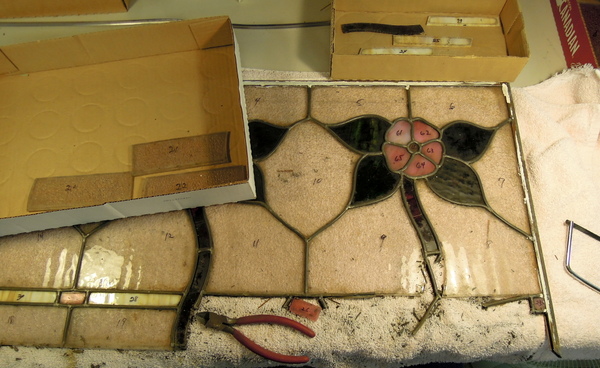 This is window #1, taken out of its wooden frame, the next step is to dismantle it. The background glass appears pinkish but is actually clear as it is laying on a colored towel.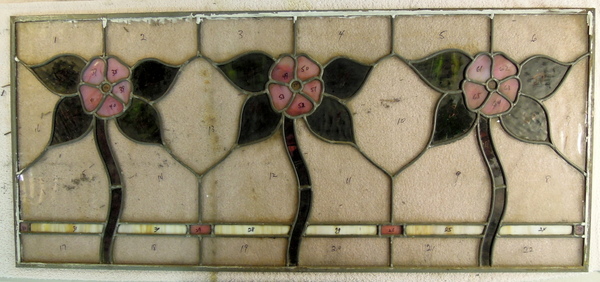 We recently were brought 2 of these old Alberta Rose Came Windows to rebuild and restore. They measure approximately 16 inches high by 36 inches long. This picture is of window # 2 which has a background glass with a slight rose colored hue to it. We have decided to do this one first. Fortunately on both windows the background glass and Alberta Rose glass is all intact. However the stems and some leaves and the cream boarder line across the bottom have broken glass. We will be having more discussions with our client and we maybe able to take pieces from the other window to replace those broken in this one. Unfortunately these are very old windows and to obtain replacement glass is impossible. Rather than have substitutions in both windows we will see if we can make one with all original glass and the other unfortunately will have some new glass. Window # 1 has clear background glass and it's restoration process will follow once we complete this window. We have taken this window completely apart and are in the process of starting the restoration with more photos to follow.