This beveled cluster transom window measures approximately 12 inches high x 36 inches wide.
We made the same design a couple of years ago for our clients farm home SW of Olds using the same bevel cluster with Spectrum's Sky Blue Wispy in the centre with the border made from Spectrum's Clear Artique.
This time our clients wanted to have the border made from Spectrum's # 100B – Barnwood and for the centre Spectrum's #6022-82CC Congo Pearl Opal. We fortunately had sufficient lead time from our clients that allowed us to obtain these Spectrum's glass before their closing and selling of their business last summer/fall of 2016.

The next picture shows the window installed in a new duplex in Olds Alberta, initially a temporary piece of molding was employed until additional material could be obtained and it is now all properly completed.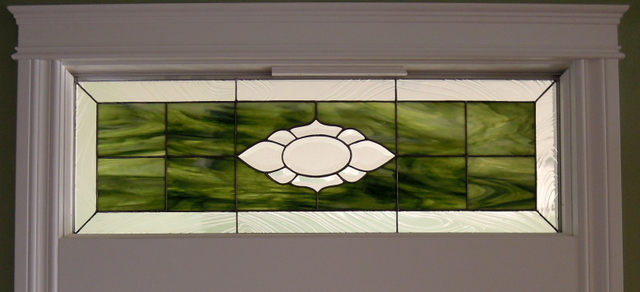 Design by Flory & Bob Wilkins