Earlier this year we were asked if we could make 2 small circle suncatchers that represented Alberta. The one on the left depicted Alberta's Rocky Mountains, the foothills and Alberta's Provincial Flower the Alberta Rose.
The other one on the right depicted Alberta's farming lands, our rolling hills along with an Alberta Wheat Pool Elevator, unfortunately few of these prairie sentinels remain on our landscape.
Both circles measured approximately 6 inches in diameter and were surrounded with a decorative brass edging.  After soldering both had black patina applied, cleaned and then polished.
These were taken to England as gifts by our client, and we were told that they were very well received and appreciated.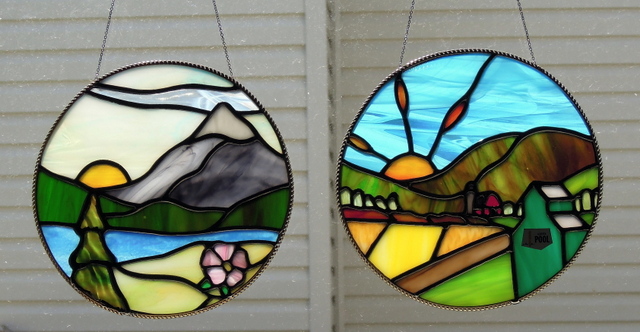 Designs by Flory Wilkins