The Blue Heron Panel measures 28 in by 18 in, this photo taken in full sun.  What always fascinates us about stained glass is how it changes with the light from sunny, cloudy, rainy, snowy days along with time of the year and the ever changing seasons.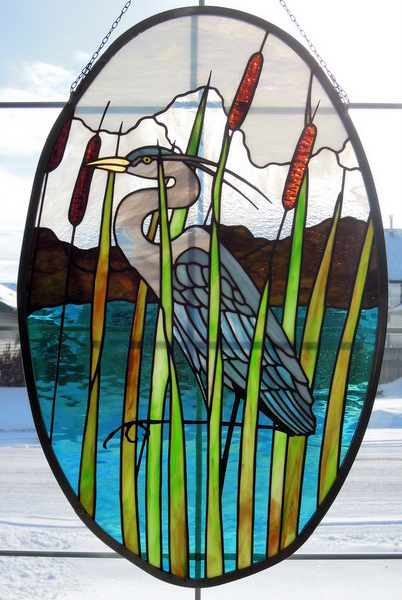 Design by Mark Waterbury
The Blue Heron Panel is now finished and is in it's final cleaning and polishing stages. We will post a picture of the panel in full sunlight in the next few days. For the water we used Spectrum's Pale Green/Aqua Blue Waterglass and matched it across the panel along with the sky using Kokomo's 14SPL. For the bull rushes we used Spectrum's Brown on Gold Streaky Granite and for the leaves a Brown/Green Kokomo 59L.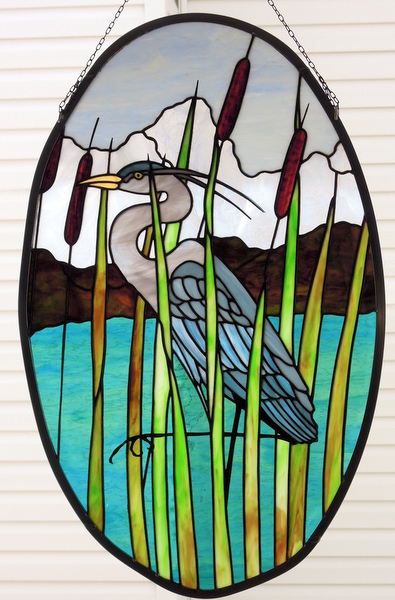 We now have cleaned the panel's solder lines with steel wool and applied black patina. Next step will be to make the frame. The first photo is of the front of the panel, while the second photo is of the reverse side.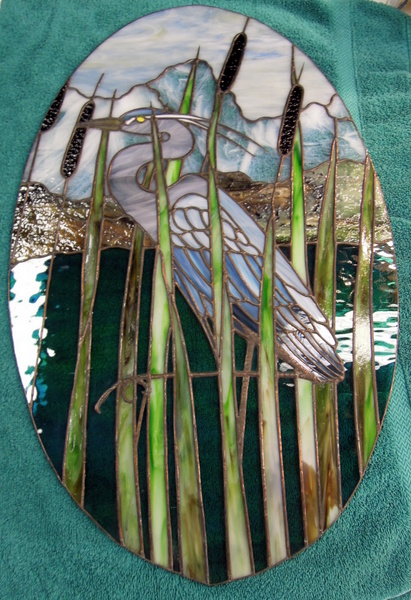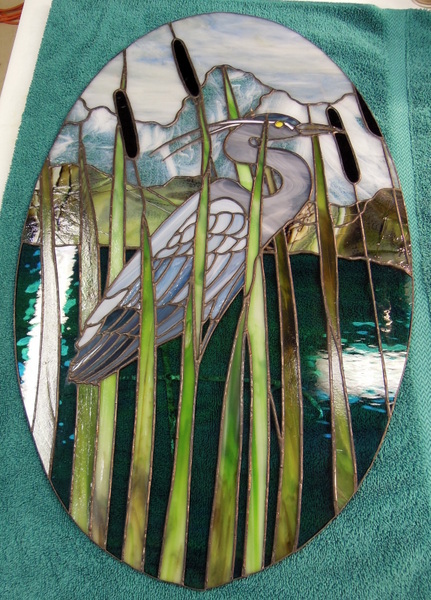 Here is the Blue Heron Panel with the front side soldered and all the flux has been removed using Kwik Clean. Next step will be to finish the reverse and then we will clean the solder with #0000 Steel Wool and then patina all of the solder lines black.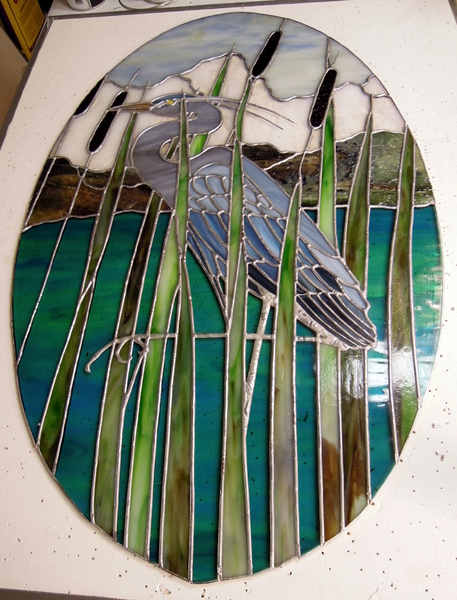 We now have finished burnishing on the copper foil overlay on this blue heron panel. The next process will be the soldering of the panel which will be somewhat difficult due to the narrow pieces of glass and the copper foil overlays as too much heat could crack the glass.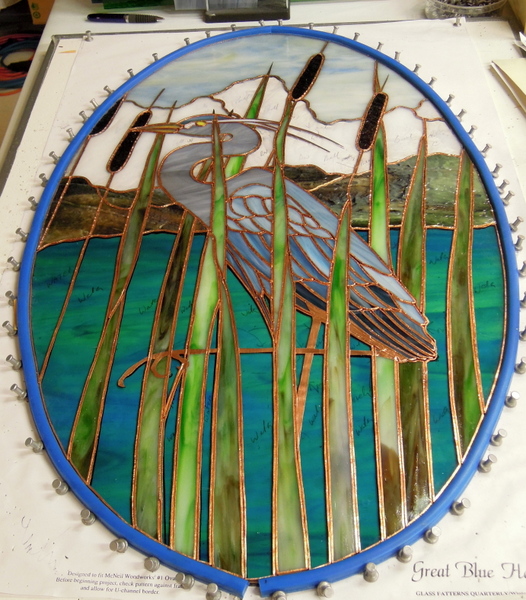 We just finished putting in all of the pieces of glass today(October 25, 2012), now we have to put on the copper foil overlay (re legs etc.) and once that is finished will post another picture with that burnished on, then the panel will be ready for soldering.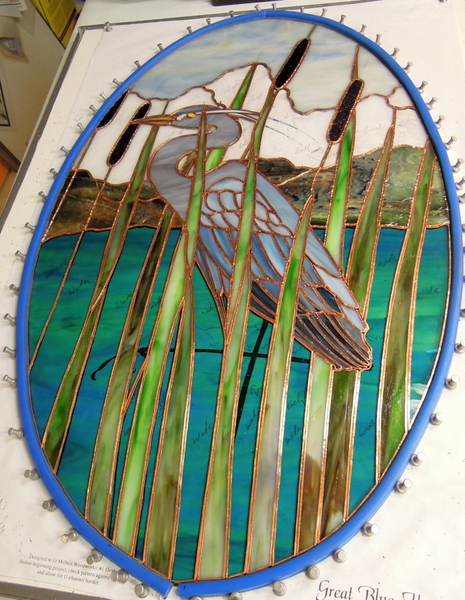 This is the latest construction photo of the Great Blue Heron Panel as at Oct 11, 2012.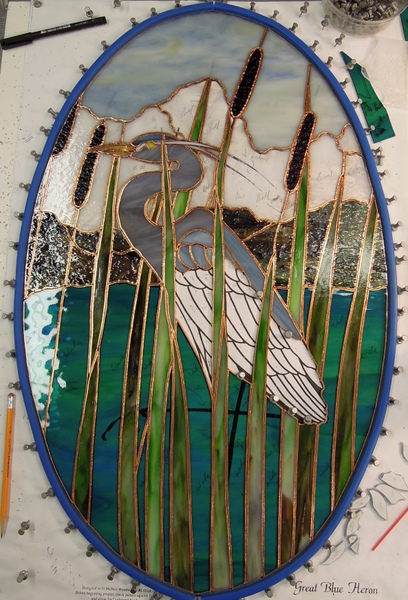 This is an ongoing construction photo gallery of this Great Blue Heron Oval Panel which we are making for a home in Toronto. The oval panel measures 18 inches wide by 28 inches high.
Below is Picture # 3
We have had a very busy year with many extenuating circumstances which prevented us from spending time in our studio, all that now remains to be done is the Heron and the foil overlays. Then of course soldering, cleaning, black patina cleaning, polishing and framing.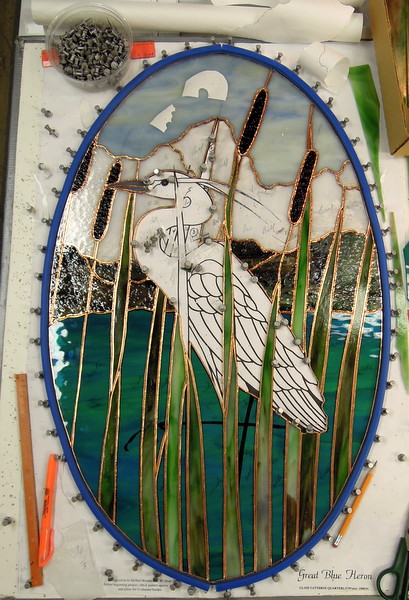 This is picture # 1 the start of construction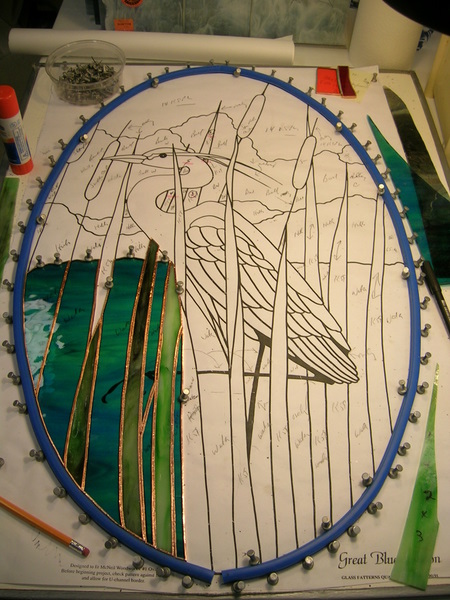 Panel designed by Mark Waterbury
Featured in Glass Patterns Quarterly Winter 1990/91
This is picture # 2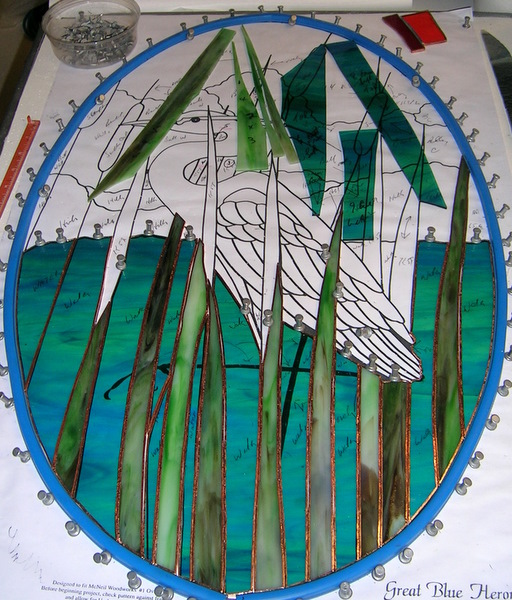 We used Spectrum's 423-1W Pale Green/Aqua Blue Waterglass for the water and it is matched all across the design. For the bull rushes we are using a Kokomo # 59L.