A client from Calgary had this beautiful large lady came panel which had fallen and the sky glass was broken. In addition the soft came edging was coming apart and the whole panel needed to be restored along with new sky glass. The panel measured approximately 25 inches wide x 33 inches high.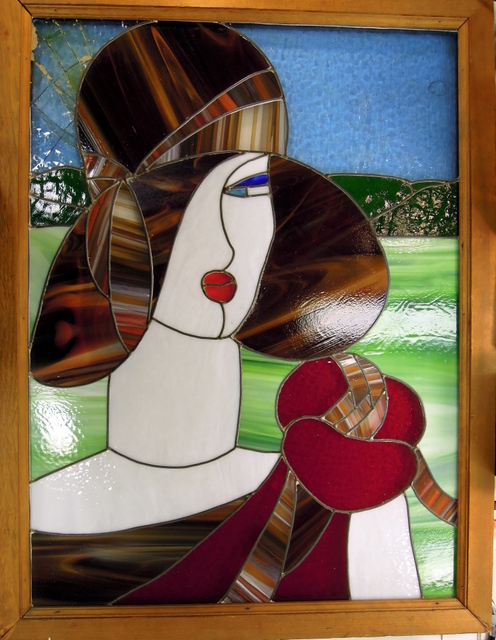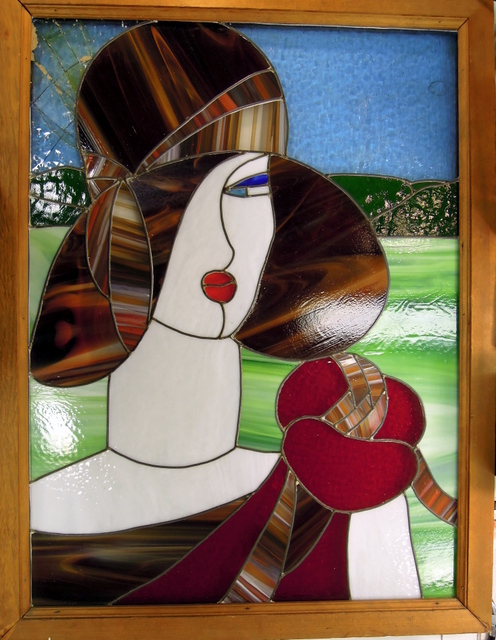 The 2nd photo shows the panel after being taken out of its wooden frame. When the panel fell both sky blue pieces were broken however other than a small crack in one of the darker greens the rest of the glass survived the fall.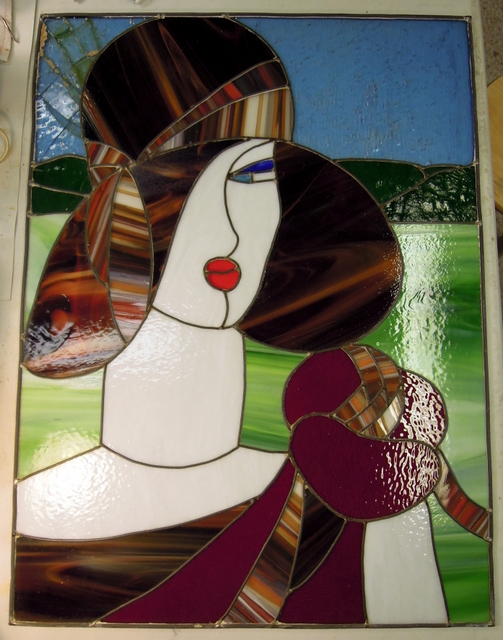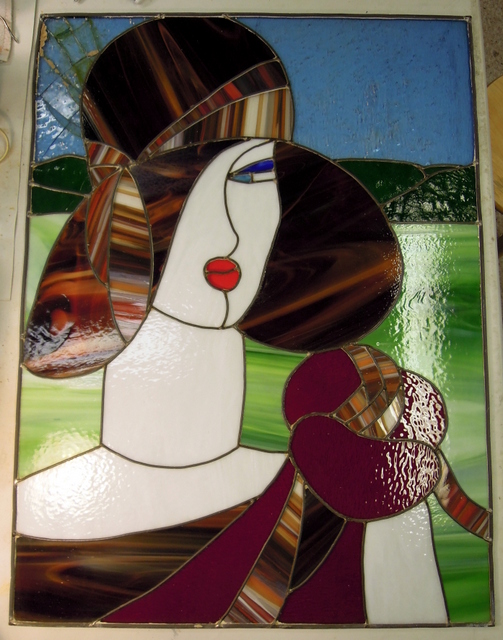 The original artist had used soft lead came for the outer frame and in addition a lot of the came cement had been left on the glass as shown below. When the panel fell it jarred loose many of the old came joints.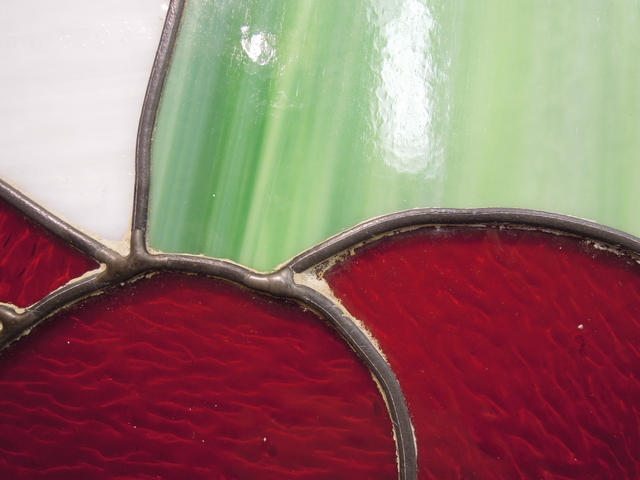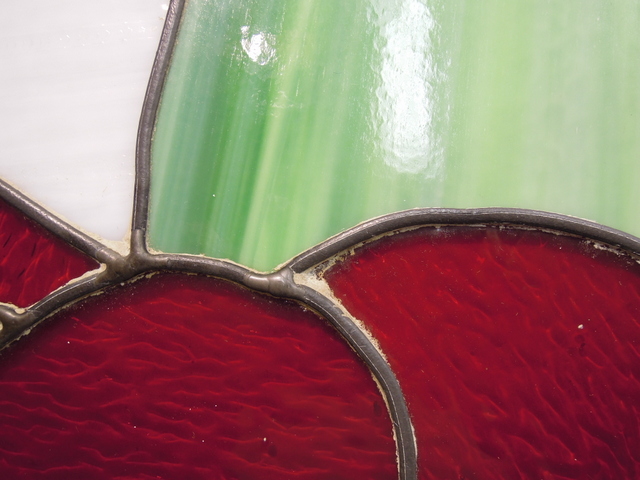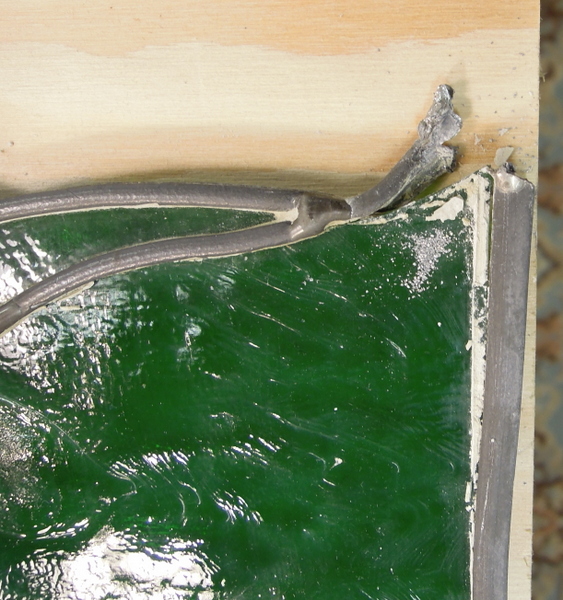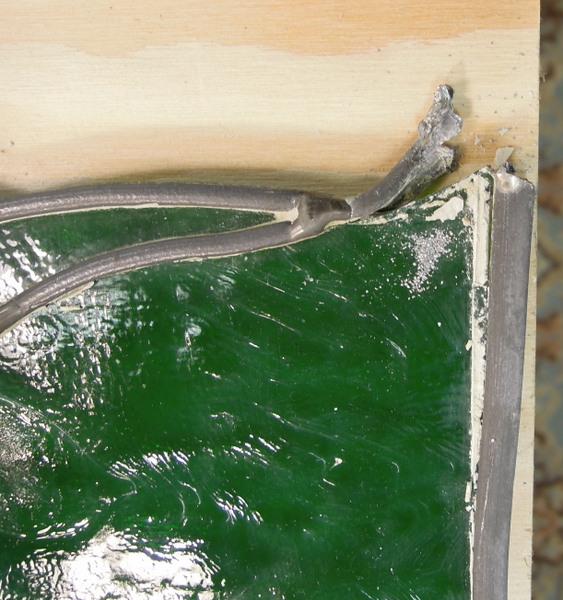 We then numbered each piece of glass, photographed the panel in detail, then took the panel all apart, cleaning each piece as we went along in the restoring, rebuilding process, starting at the bottom of the panel.
We had a beautiful piece of Bullseye, Clear, Egyptian Blue Opal #002064-0030 which we used for the sky and it enhanced the overall beauty of the panel. With the cracked piece of the dark green horizon glass we just added in another came joint as we did not want to replace that glass.
We decided that as this was such a large panel we upgraded the came used to RH – 12 and also put a 3/8 inch zinc outside came for added strength. After soldering the joints we cleaned off the flux using Kwik Clean and compressed air to ensure all liquid was removed from between the glass and new came.
We had an opportunity to obtain a new Stained Glass Putty by Glass Pro, which we found to be excellent to work with. Once the panel was cleaned with whiting, we scrubed all of the lead came with  #0000 steel wool and then apply black patina. After which we use Kwik Clean again to clean the panel again before applying a coat of Clarity Stained Glass Finishing Compound.
Once the polish is dry we then use several soft cloths along with tooth brushes to ensure a bright clean finish.
Here is the finished reconstruction, remounted in the heavy wooden frame. In due course our client in Calgary will be sending us a photo of the panel once she decides where to hang it in her home.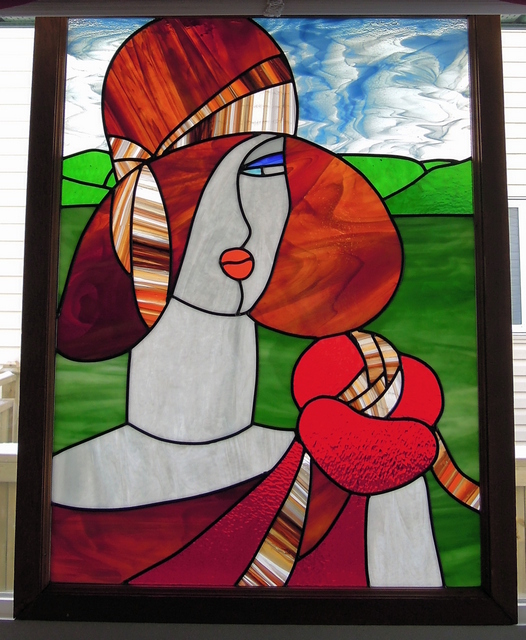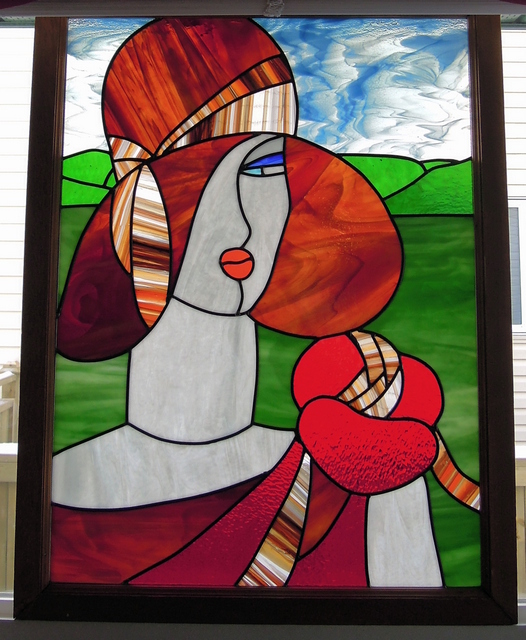 Designer Unknown